Kindergarten Students. Kindergarten Registration 2022-2023 school year 
If your child will be five years of age on or before the first day of September.  A certified birth certificate (not a copy or card) issued by the Bureau of Vital Statistics, immunization record, and a certificate stating the child has received vision screening must be presented at registration. A proof of address of the parents is required for registration.
State law does not allow students to attend class without complete immunizations. The Utah Department of Health Exemption Form must be completed for those children who claim exemptions for medical, religious, or personal reasons.
---
All New Students Complete this online enrollment portion. Once you have completed the online enrollment portion, please take the required forms to the school to complete the process. Please call the school to set up a time. Office : 801-565-7458. Other items you should or might need are listed below:
Legal guardian's picture identification (such as a drivers.   license, state agency picture identification, or passport)
Child's original birth certificate/ birth certificate
Child's unofficial transcripts from ALL previous schools (Grades 9-12)
For more information, please visit the Jordan School District Registration & Enrollment pageOpens in a new window or contact the Planning & Student Services departmentOpens in a new window
---
Returning Students
Existing students registration: Online registration will open in August 2022 Skyward. Exact date will be posted. Each school year, parents or guardians are required to complete this registration for each of their students. Please log in to your Skyward Family Access to begin the online registration for the 2022-2023 school year.
Click Family Access buttons below to get started. Once logged in you will see a link at the top of the screen that says Go To Registration for School. Click the link to register your child. If you can not remember your log, or if you are having any problem, please don't hesitate to give the front office a call at 801-565-7458.

(Link for returning students)
As part of the registration process, we would encourage every family to complete the free/reduced price lunch application online.
Directions for completing online Free and Reduced Meal Application through Skyward Family Access
Skyward family access is free to use and includes access to your child's account, purchased items, free and reduced application and low balance email notifications.
Online application is not compatible on Microsoft Edge browser.
Log into Family Access using the parent or guardian's login, not the students.
Select Food Service to the left of the screen.
On the top left side of the page, select all students and choose a student. Then, select application, select add application to start the process.
If you are missing information or something is incorrect, it will say incomplete and will not let you select the submit button.
Make sure to select the submit button when you finish.
---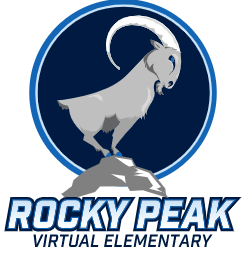 If your student(s) would like to take any virtual classes during the 2022-2023 school year, please visit connect.jordandistrict.org  to see a list of class offerings, or you can fill out this form https://forms.gle/1dz8SGCSQb7egR2m7 . If you have questions regarding virtual learning or classes for next year please contact Kelsey Peak Virtual Middle School 801-567-8440 or Kings Peak High School 801-567-8020, or Rocky Peak Virtual Elementary School 801-567-8480. Virtual School Information 
Pre-registration at Rocky Peak Virtual Elementary School for 2022 - 2023  is happening now and will continue until Summer 2022. However, because you will be un-enrolling your students from their current boundary elementary school and enrolling them in the Rocky Peak Virtual Elementary School, it is important to complete your registration form as soon as possible. This will allow both schools to make informed decisions about the number of teachers for each school. Final registration will need to be completed by August 2022 as you commit to Rocky Peak Virtual Elementary School for the 2022 - 2023 school year.